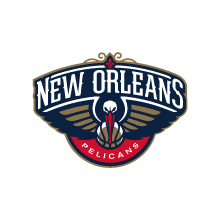 New Orleans Pelicans Tickets
Authorized Ticket Partner of the New Orleans Pelicans
There aren't any events on the horizon right now.
New Orleans Pelicans Tickets
Watch top-quality basketball with the New Orleans Pelicans
The New Orleans Pelicans may look back on a short history, but in that time this professional basketball team has been extremely successful. Join them at one of their upcoming games for major league sport at its finest - full of fast action, dramatic baskets, and plenty of excitement among the crowd. Buy or sell New Orleans Pelicans tickets on StubHub now for a sports experience you'll never forget!
What's next in store for this determined team?
Although the team had been in existence since 1988, the New Orleans Pelicans spent the first 14 years of their life known as the Charlotte Hornets. Relocating to Louisiana in 2002, they carried the name 'New Orleans Hornets' until taking on bigger wings in 2013 as the New Orleans Pelicans. Results from up to 2002 were returned to the franchise now known again as the Charlotte Hornets (in the interim period they were the Bobcats) and the newly established team was ready to go again. This saw a return to the playoffs in several seasons, including 2015 and 2018, in an attempt to add another divisional title to the one they had taken in 2008, the same year that the city was awarded the NBA All-Star Game. While it can't be said that the team has always had the easiest ride, the New Orleans Pelicans players are doubtless able to keep you on the edge of your seat, displaying immense skill and strategy as they fight for possession of the ball and space on the court. Basketball is always a thrilling game, but especially when you see it with New Orleans Pelicans tickets.
Spend time with the New Orleans Pelicans mascot
While they have always played their home games at the Smoothie King Center, the New Orleans Pelicans' stadium was severely damaged by Hurricane Katrina in 2005, which necessitated a move of the entire team to Oklahoma City. They spent two seasons there before returning triumphantly to their Louisiana home, where they have gradually become more and more embedded. The name change reflected how strongly they had put down roots - the pelican is the state bird of Louisiana, and the newly unveiled New Orleans Pelicans logo features the city colours of red, navy, and gold, as well as lettering inspired by the famous French Quarter street signs. With fans from the city and the state beyond, games are always well attended and feature all the usual side entertainment such as the New Orleans Pelicans mascot (Pierre the Pelican) and performances by a cheerleading squad. Watch them take on divisional rivals like the Dallas Mavericks, Memphis Grizzlies, and San Antonio Spurs in clashes that promise some of the best of this sport - you can buy or sell your New Orleans Pelicans tickets on StubHub now.
Back to Top
Epic events and incredible deals straight to your inbox.