We didn't find anything nearby, but here's what's happening in other cities.
There aren't any events on the horizon right now.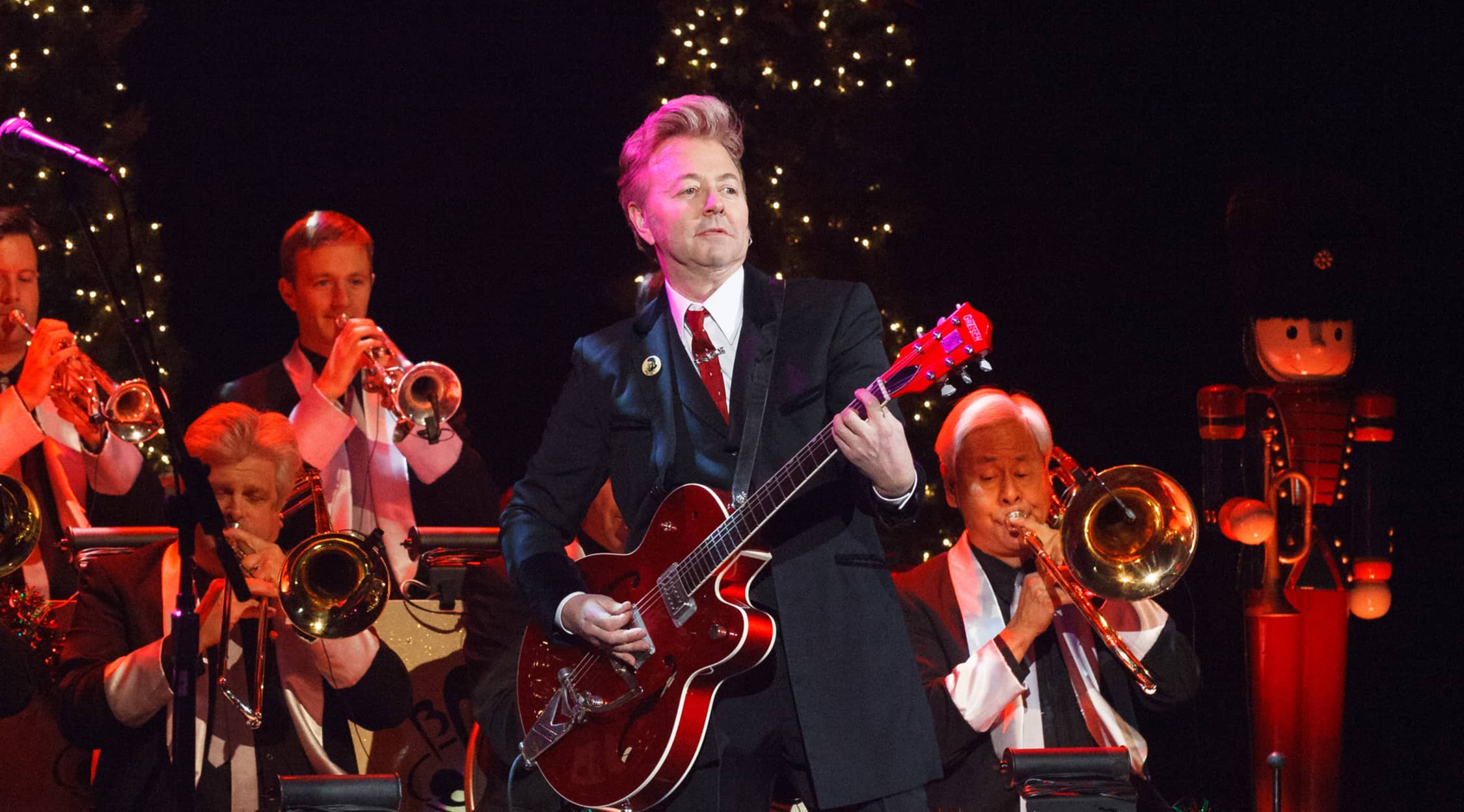 Zuma
Brian Setzer Orchestra Tickets
Brian Setzer Orchestra Tickets
Widely considered one of the best guitar players in the world, Brian Setzer has played with a number of successful bands. One of the most important has been the Brian Setzer Orchestra. Playing mostly big band, swing and blues, BSO, as the band is known for short, has released nine studio albums, eight live and compilation albums and three DVDs. Brian Setzer Orchestra is a 19-piece band, with its sheer size and diversity of instruments contributing to a big, full sound for all types of musical performance.
BSO to Go
Setzer formed BSO in 1990 after his success with the Stray Cats, which he formed in the early '80s. The Brian Setzer Orchestra's eponymous debut album came out in 1994. BSO became known quickly for its cover of Louis Prima's "Jump, Jive an' Wail," which Prima included on his own album. BSO followed up that single with "Gettin' in the Mood."
Where can I buy Brian Setzer Orchestra tickets?
Buy your Brian Setzer Orchestra tickets at StubHub, where fans enjoy the FanProtect Guarantee that keeps every BSO ticket purchase safe and secure.
Who are the members of Brian Setzer Orchestra?
Along with Setzer on guitar and lead vocals, BSO includes Johnny Hatton on bass, Janick Lafreniere on piano, Daniel Glass on drums and percussion, James Gerber on berimbau and Julie Reiten and Leslie Spencer on vocals. The BSO brass section includes Tim Messina on tenor sax and clarinet; Eric Morones and Jeremy Lappitt on alto sax, flute and clarinet; Jim Youngstrom on tenor sax and bass clarinet; Sean Franz on baritone sax and clarinet; Ron Blake, James Blackwell, Sean Billings and Brian Scanlon on trumpet; Pete Emblom, Kevin Esposito and Kerry Loeschen on trombone and Robbie Hioki on bass trombone.
What can I expect from Brian Setzer Orchestra?
In addition to the standard guitars, keys, drums and bass, BSO has a brass section, a stand-up bass player, a boogie-woogie pianist and the Vixens, the BSO's backup duo. As fitting for a band headed by a so-called "musician's musician" always striving to expand his sensibilities, the sound coming out of BSO can be almost anything, from rockabilly and rock and roll to its tried and true jump blues, big band and swing roots. Songs you may hear at a BSO show include "Rock This Town," "Lonely Avenue," "Trouble Train," "Dig That Crazy Santa Claus," "Boogie Woogie Santa Claus," "The Dirty Boogie," "Mr. Jazzer Goes Surfin'" and "Mr. Surfer Goes Jazzin'."
Who plays with Brian Setzer Orchestra live?
In addition to BSO, Brian Setzer also plays live with Stray Cats and Brian Setzer's Rockabilly Riot. Previously, he also played with another band he formed, Brian Setzer and The Nashvillains.
How many Grammy awards has Brian Setzer Orchestra won?
Brian Setzer Orchestra has received four Grammy nominations in its career, but it has not yet taken home the award. Brian Setzer himself, on the other hand, has been nominated for 12 Grammy Awards and won three: in 2000 for Best Pop Instrumental Performance for "Caravan" and in 1998 for Best Pop Performance by a Duo or Group with Vocal for "Jump Jive An' Wail" and Best Pop Instrumental Performance for "Sleepwalk."
Where can I see the Brian Setzer Orchestra tour?
While there are many places to see Brian Setzer perform in a variety of bands and contexts, perhaps the best time to see BSO perform is around Christmas. Brian Setzer Orchestra is known for playing Christmas shows throughout December and for playing a musical role in the tree-lighting ceremony at Rockefeller Center. In fact, through 2016, there was a Brian Setzer Orchestra tour almost every year since 1997.
Who are Brian Setzer Orchestra's musical influences?
Brian Setzer and the band that he leads are influenced by many artists, which is evident in BSO's music and live performances. BSO's influences include Big Joe Turner, Carl Perkins, Gene Vincent, Elvis Presley and Eddie Cochran.
Back to Top
Epic events and incredible deals straight to your inbox.