We didn't find anything nearby, but here's what's happening in other cities.
There aren't any events on the horizon right now.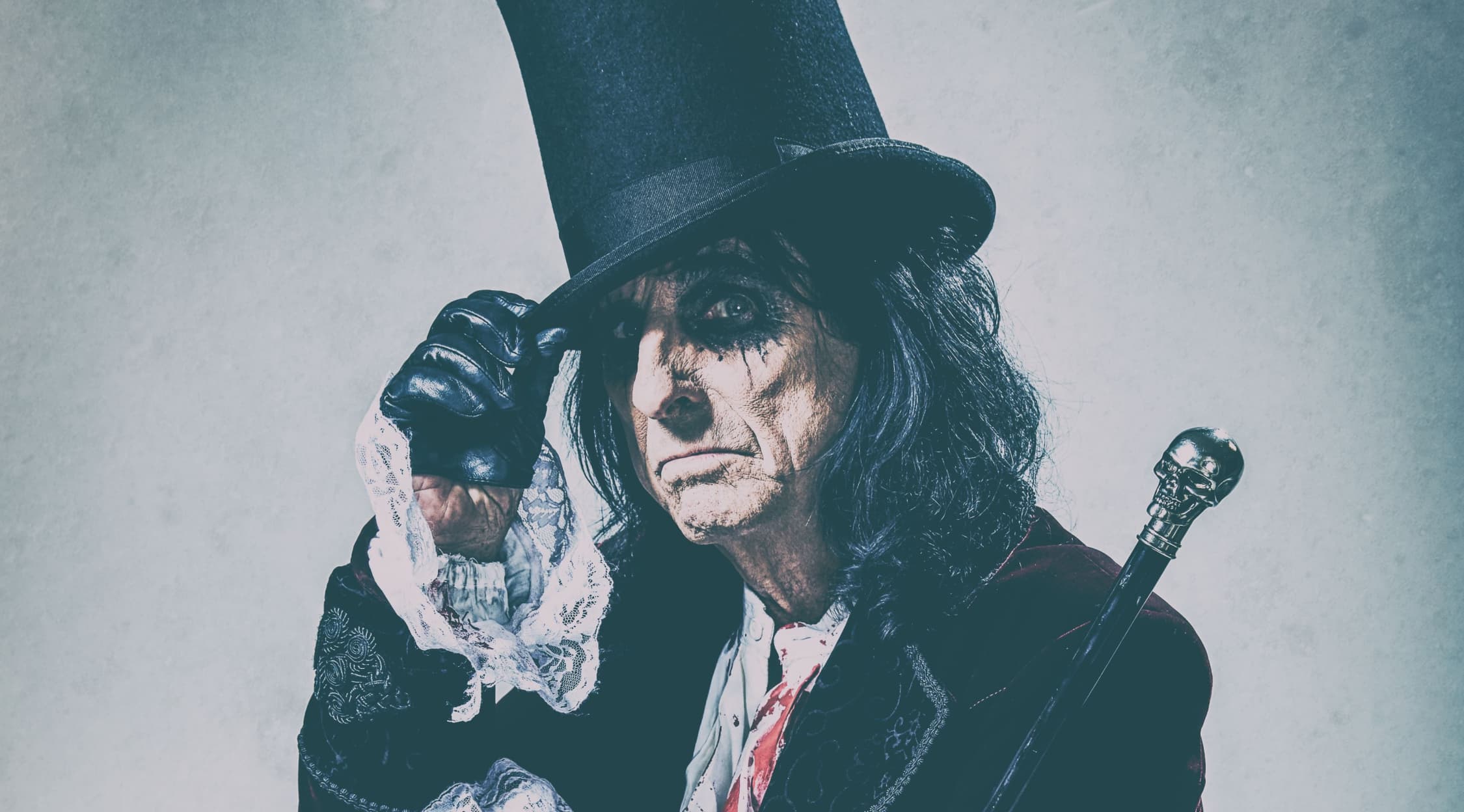 Alice Cooper Tickets
Alice Cooper: veteran rocker brings his legendary live shows to the UK in November 2018
All hail the undisputed king of shock rock! Alice Cooper's ironic fusion of an androgynous appearance and dark, controversial lyrics has made him one of the most recognisable acts in the history of music.
In a career now stretching back over 50 years, Cooper has sold over 50 million records, been inducted into the Rock and Rock Hall of Fame and permanently transformed the metal genre with his stagecraft and showmanship. And the metal legend isn't done yet, as he returns to the UK this November; with shows in Leeds, Dublin, Glasgow, Birmingham, Manchester and London. 
Cooper's theatrical live shows are still as thrilling as ever, so be sure to put this one on your bucket list: see Alice Cooper live, with tickets at StubHub. 
Alice Cooper: the band
Alice Cooper, born Vincent Damon Furnier, established his first group in the '60s as a teen in Arizona (they were called the Earwigs). The group went through a variety of name changes, including The Spiders and Nazz, before Furnier was allegedly informed that he was the reincarnation of a 17th century witch named Alice Cooper, leading to this lasting choice of name.
Consisting of Furnier (who was soon going by Alice Cooper) on vocals, Dennis Dunaway on bass, Glen Buxton and Mike Bruce on guitar, and Neal Smith on drums, Alice Cooper moved to California where they met Frank Zappa and Shep Gordon, who became their manager. In 1969, Alice Cooper released their debut album Pretties for You, followed up by Easy Action in 1970, but both records achieved only limited success. 
The following year was spent developing their bizarre stage show and recorded their third studio album Love It to Death with production from Bob Ezrin. Ezrin helped the band create their signature crunching heavy metal, and the album was released in 1971. "Eighteen", its lead single, rose to number 21, and the record was certified gold. Alice Cooper's first taste of success allowed an expansion of the outlandish, elaborate stage show, which made them a highly sought-after concert draw in the United States and later in the United Kingdom. Killer, released in 1971, also went gold.
In 1972, Alice Cooper released School's Out to huge success. The album hit number two in the US and was certified double platinum. Its title song cracked the US top 10 and made number one in the UK. The following year, Billion Dollar Babies would become the band's biggest release, topping the charts in both the US and the U.K. Muscle of Love followed in 1973, but failed to match its predecessor's success, and the band split soon after.
By that time, Furnier had taken Alice Cooper as his legal name, and launched a bombastic solo career, while Alice Cooper's Greatest Hits, released in 1974, made the top 10. 
Alice Cooper solo career: 50 years in the business for metal pioneer
Cooper's first solo album, Welcome to My Nightmare, saw him backed by the same session band that had supported Lou Reed on Rock 'N' Roll Animal: Penti Glan (drums), Dick Wagner (guitar), Steve Hunter (guitar), Prakash John (bass), and Joseph Krowski (keys). The album was released in the spring of 1975 and continued Alice Cooper's previous sound. It made the top 10 in the US and yielded a hit single in the acoustic "Only Women Bleed".
In 1977, Alice Cooper Goes to Hell followed, with certified gold success before Cooper entered rehab in 1978 and made an LP about his treatment - From the Inside. For the next half-decade, Cooper continued to release albums and tour, but he failed to match his '70s success.
Late in the '80s though, he launched a triumphant comeback; sparked by his roles in horror flicks and tributes paid to him by emerging pop-metal acts. Constrictor, which arrived in 1986, kicked off his comeback with 1989's Trash really putting him back into the spotlight. With production from the proven hitmaker Desmond Child, Trash featured guest artists Jon Bon Jovi, Aerosmith members, and Richie Sambora. The record itself made the UK top 10, and it was a number 20 hit in the US; eventually going platinum. "Poison", its midtempo rocker, was the artist's first top 10 hit since 1977.
Following the release of Trash, Cooper has spent two decades appearing in movies, touring his extensive back catalogue, hosted his own radio show and recorded nine further albums; firmly establishing himself as one of the most popular and recognisable musicians in history. 
Similar artists to Alice Cooper
After buying Alice Cooper tickets at StubHub, why not check out listings for similar artists? Modern shock rocker Marilyn Manson is back touring in 2017, while alt-rock trio 30 Seconds to Mars have announced a huge 2018 European tour, including five UK dates.
Back to Top
Epic events and incredible deals straight to your inbox.