We didn't find anything nearby, but here's what's happening in other cities.
There aren't any events on the horizon right now.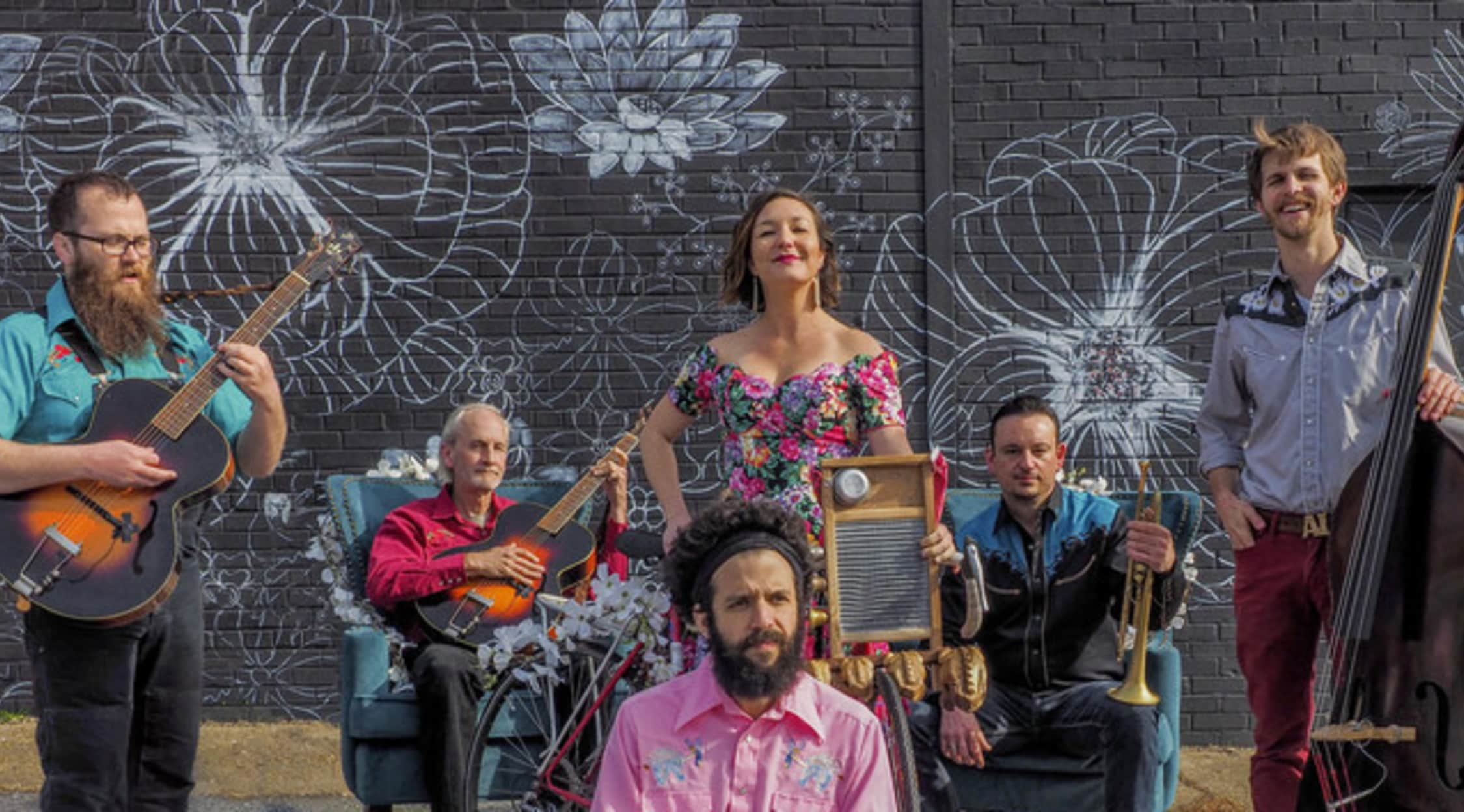 The Bumper Jacksons Tickets
The Bumper Jacksons Tickets
Tonight we're going to party like it's 1929! The Bumper Jacksons offer a swinging mix of bluegrass, jazz and Basin City Blues, blended together for the ultimate retro party. Straighten your tie, fluff up your feather boa, and get ready to bump.
Schedule
As an emerging band, The Bumper Jacksons are still faithful to their local scene, with most of their upcoming gigs focused on their hometown of Washington, DC and surrounding areas such as Virginia and Maryland. You may have to travel if you're not already neighbours with the band, but it's worth it to get your hands on some The Bumper Jackson tickets.
Trivia
The band has two chief songwriters, Jess and Chris. Although there's a unified sound to the band, the two of them almost never write together, having completely different styles. Chris describes himself as a 'social songwriter', preferring to take a scrap of an idea, jam with band members and friends, and let it develop organically. Jess is more solitary, going off by herself for days at a time to write a song. She says that her process involves listening to Tom Waits while strolling through the arboretum, while trying to find lyrics that match her chord progression. However they do it, the two make excellent music together.
Band
The Bumper Jacksons came into being when lead vocalist Jess Eliot Mhyre was at a party and bumped into guitarist Chris Ousley. The two started talking about their shared love of bluegrass and jazz, and started jamming on the lawn. Their session lasted until dawn the next day, and they realised that they were on to something really special. New members were added slowly, with trombone player Brian Priebe joining in 2013 to complete the sextet.
Breakthrough
Local support for The Bumper Jacksons has been incredible over the last few years. In 2012, before the lineup of the band was even complete, they were honoured at the Washington Area Music Awards, or Wammies, with the prize for 'Best Traditional Folk Band'. Not bad for a brand new band. They even managed to retain the award, picking up the Wammie again in 2013. It helped to establish them as a real force to be reckoned with, and added to their growing fanbase.
Hit Albums
2014 saw the release of their debut album, Sweet Mama, Sweet Daddy, Come In. Critics liked it a lot, lauding the way that it toured America's musical history from the Appalachian mountains to the streets of New Orleans, all done with a little 21st century sass. 2015 saw the follow-up Too Big World, a more tender album with several ballads, as well as big party-starters such as 'I've Got My Whiskey'.
Show Experience
There are two kinds of The Bumper Jackson live shows, depending on what mood they're in. First, there's the quiet, sit-down acoustic show, a kind of unplugged session that gives you a chance to really appreciate their complex arrangements and soulful harmonies. And then there is the other kind of The Bumper Jackson show, the kind where they appear on stage with two drummers and fire-breathing stilt-walkers. These shows are big, hot, sweaty parties, and everyone is invited. You can still listen to their musical craftsmanship, but you'd better be dancing while you do it or else Jess will yell at you.
Back to Top
Epic events and incredible deals straight to your inbox.