We didn't find anything nearby, but here's what's happening in other cities.
There aren't any events on the horizon right now.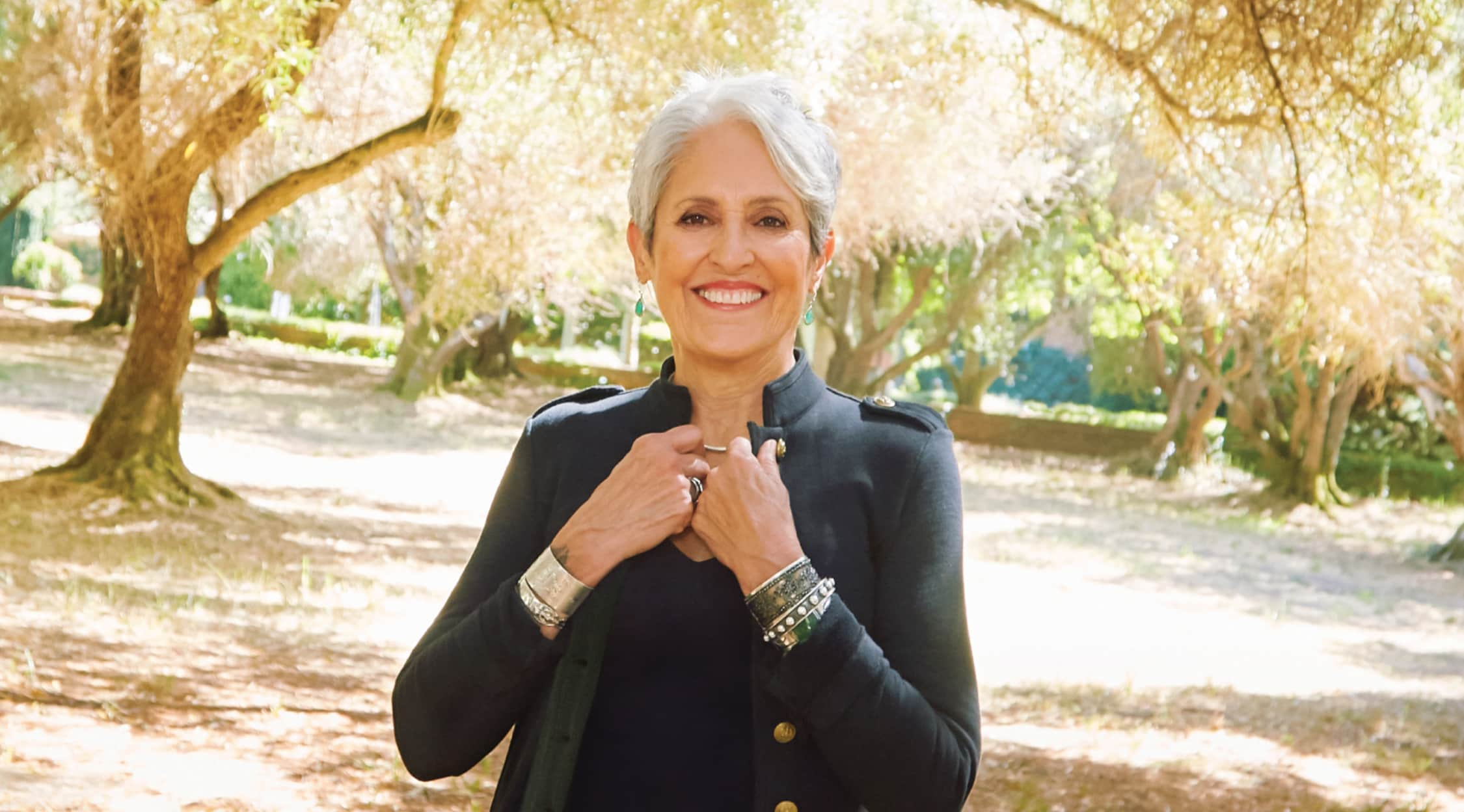 Joan Baez Tickets
Joan Baez Brings Her Legendary Sound to the UK
Now in her 70s, nobody would begrudge Joan Baez if she decided to hang up her touring boots and enjoy her retirement. However, the Queen of Folk is still going strong and bringing her notorious musical stylings to audiences the world over.
Schedule
Audiences across the globe can grab Joan Baez tickets for stops on her tour, which includes performances in Paris, Slovenia, the Czech Republic, Slovakia, Serbia, and Croatia before she returns to the U.S. Whether you just want to relive the '60s, or you discovered Baez in your parents' vinyl collection, do not miss out on this opportunity to see a genuine American folk legend.
Trivia
Joan Baez has been performing live for over 55 years, including an appearance at Woodstock in 1969 which helped to secure her status as an immortal of the '60s folk scene. You might think that this makes Baez one of the most confident performers in the world, but she has suffered from crippling stage fright for most of her career. In recent interviews, she confirmed that after years of therapy she is finally comfortable performing on stage, and that she has also conquered her fear of flying.
Band/Singer
Baez was raised in an academic environment by immigrant parents, and began teaching herself to play rhythm and blues on guitar in her teenage years. Her life changed at the age of 13 when she attended a Pete Seger concert. From that point on, she devoted herself to the burgeoning folk scene, releasing her first album in 1960 at the age of 20.
Breakthrough
Baez's second album, Joan Baez Vol. 2, went Gold in the U.S., and from then on she was a respected and well-known artist. However, it is her partnership with Bob Dylan that elevated her status even further. At that point, Dylan was mostly unknown in the U.S., but Baez's cover version of "Don't Think Twice It's Alright" brought him to national attention. The relationship was mutually beneficial, and as Dylan rose to superstardom, Baez came to be known as one of the finest interpreters of his work. The two had a brief relationship, as documented in the song "Diamonds & Rust," and together they became the driving force behind the American folk revival.
Hit Albums
Baez has recorded 35 albums during her career, with the most recent being Day After Tomorrow in 2008. She has repeatedly proven herself as a songwriter with classic songs such as "Diamonds & Rust" and "Sweet Sir Galahad." However, she is better known for her interpretations of the works of other songwriters. She has recorded classic songs by Pete Seeger and Woody Guthrie, and was instrumental in bringing attention to then-unknown songwriters such as Bob Dylan, Leonard Cohen, and Jackson Browne. Perhaps what Baez is most famous for is her performance at 1969's Woodstock festival. A leading anti-war activist herself, Baez finished her set with an emotional rendition of "We Shall Overcome," one of the most famous moments in musical history.
Show Experience
Those attending a Joan Baez concert these days are always struck by one thing: that the remarkable purity of her voice -- arguably the defining quality of her performance -- has not diminished over the years. She still soars to those high notes, accompanying herself on guitar. Her shows are relaxed, charming, and filled with delightful anecdotes about the incredible experiences she has had during her musical career. Don't miss the chance to see a living legend.
Back to Top
Epic events and incredible deals straight to your inbox.